A Solution of The Future, Available Today
February 17, 2017
Article cites gains in penetration, growth prospects for composite utility poles in a global marketplace.
(STATESVILLE, NC – March 2, 2016) – Highland Composites and its Intelli-Pole® composite utility pole product are featured in an article in the March-April 2016 issue of Composites Manufacturing. The story, titled "A Market with Staying Power," focuses on the growing role of composite materials in solving critical challenges of the electric utility and communications industries.
The full article is available on pp. 14-19 in the digital issue at the magazine's website.
Ocracoke Island site is an ideal proving ground for superior strength, durability, and performance of composite utility poles in harsh coastal environments
(STATESVILLE, NC – January 14, 2016) – Highland Composites has announced the first installation of its Intelli- Pole® composite utility pole on the Outer Banks of North Carolina. The pole was put into service on Ocracoke Island by Tideland EMC, an electric utility cooperative, to test its performance for use in a grid hardening effort for critical coastal infrastructure. Highland Composites provided comprehensive installation support at the site.
Wind-rated to over 180 MPH, the Intelli-Pole® readily exceeds a new requirement at Tideland EMC that its utility poles be able to withstand winds of 132 MPH, the top wind speed for a Category 3 hurricane.
The lightweight, modular design of the Intelli-Pole® is ideal for remote sites such as Ocracoke Island, which is accessible only by ferry. The Intelli-Pole® is easily transported in the bed of a pickup truck because no segment is longer than 13 ft. or weighs more than 280 lbs.
In coastal regions, utility poles suffer the corrosive effects of salt-air, humidity, UV, and acid rain. To defeat these threats, the Intelli-Pole® is constructed from electrical grade corrosion resistant (E-CR) fiberglass and vinyl ester resin with integrated UV protection to provide a corrosion-free, rot-free solution.
The high strength-to-weight ratio of the Intelli-Pole® withstands extreme stress loads generated by severe weather that can cause conventional poles to fail, leading to pole cascading and power outages that are disruptive, dangerous, and costly. The Intelli-Pole® is an excellent choice for storm restoration — easy to load, rapid to install, with truly interchangeable sections that allow replacement of damaged segments only.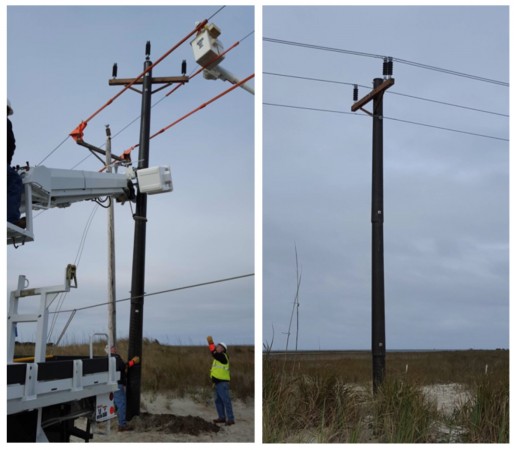 Composite material poles provide innovative, modular solutions to Utilities customers
(STATESVILLE, NC – October 23, 2015) – Highland Composites, the composite structures division of Highland Industries, Inc. has announced its acquisition of the INTELLI-POLE® product line from Utility Composites Solutions International, Inc. of Dayton, OH.
The acquisition expands Highland Composites' existing role as a strategic partner in the manufacture of INTELLI-POLE® branded products. The company will fully integrate the INTELLI-POLE® business line including all technologies, production equipment, and key talent into its state-of-the-art manufacturing facility in Statesville, NC.
The INTELLI-POLE® product was designed with direct input from utilities to fulfill their needs for a better pole solution. INTELLI-POLE® offers the industry's only slip-fit joint and short section design, making it safer and easier for linemen to install. The pole's modular design is ideal for tough-access back lots and difficult terrain, providing rapid, lower-cost installation at cost savings of 30%-50% compared to conventional pole materials or single section composite poles.
Superior materials and construction allows the INTELLI-POLE® to last more than twice the life of conventional pole materials. The pole will not rot, decay or corrode, and is impervious to insects and wildlife. INTELLI-POLE® durability and longevity enables additional cost savings to be realized over the life cycle. With a wind rating of over 180 mph, the Intelli-Pole® will strengthen any distribution line and minimize storm damage due to pole failures or pole cascading, leading to increased grid reliability.
"We are excited by this opportunity to propel the composites pole business forward," said David New, Vice President at Highland Composites. "We look forward to growing this business both domestically and globally, and welcome all Intelli-Pole® customers to come and visit us in Statesville, NC at their earliest convenience."